Cupcake # 3
of ( A lovely flavor brought from past to present )
The challenge that I have started to bake cupcakes inspired by local Emirate desserts,
"ka-meer" 5meer cupcakes
Ka-meer is a traditional kind of bread Here in UAE ,
It's one of the most non bread we have in this region..
"ka-meer" is mainly made from flour , egg and it's sweetened by dates and the top is wiped with egg so it turns glossy and brown ,,
"ka-meer" is cooked using special gadgets on charcoal.
Throw years changes have been made to the "ka-meer" but it still have it's flavor and importance as a break fast , special occasions and even dinner ..
Next is the new edition of "ka-meer" that I have developed to be a cupcake ..
Frosted with cream cheese and honey ..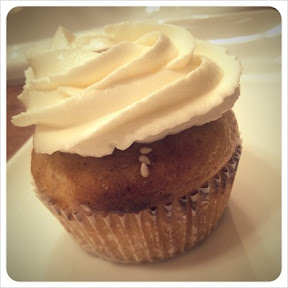 .
.
.